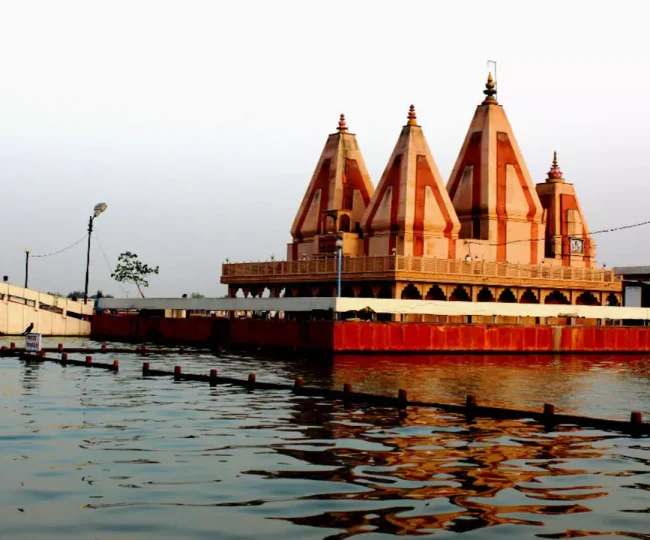 Brahma Sarovar at Kurukshetra (Haryana)
Amrit Sarovar at Amritsar (Punjab)
Tanks (Kundas) are an integral part of India's famous and highly evolved traditional water management systems. In areas (particularly the Deccan peninsula) where the rivers are not snow-fed, the different kinds of tanks – percolation ponds, natural lakes, artificial reservoirs and temple tanks – proved to be of great use. While the ponds, lakes and artificial reservoirs were used for activities like irrigation, washing etc., the temple tanks were sanctified and the waters were drawn only in times of drought etc.
Religious – The temple tanks are revered no less than the temple itself. Their waters (tirtham) are believed to cleanse all sins. In fact, devotees are required to wash their hands and feet in the temple tank before entering the temple. The waters are also used to perform the daily ritual bath (abishekam) of the temple deity. Annual float festivals (teppotsavam in Tamil) are conducted in the tanks, wherein the idol of the deity is floated around the tank on a decorated raft. (called 'teppam' in Tamil)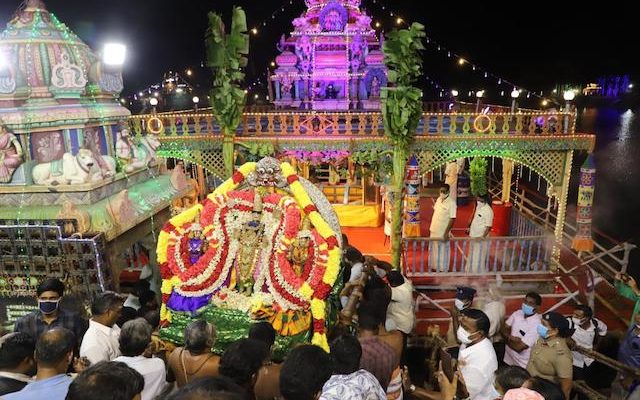 Teppotsavam at Sri Kapalishwara temple tank, Chennai
Water harvesting – Since the water from the temple tanks was not extracted for everyday chores, they served the vital purpose of recharging the underground aquifers. They reduce the runoff and enhance the water stagnation time, which ensures sufficient water in the domestic wells during the summer months.
Aesthetic and Recreational – The temple tanks also added aesthetic value to the temple area. In small villages and towns the temple tanks and their stone steps served as a gathering and meeting places for the entire community.
Some of these sacred tanks supported a variety of life forms especially fish, which helped maintain the tank by eating moss and algae which would otherwise turn the water murky. Infact, active fish breeding was carried in some of the temple tanks to provide an additional income for temple maintenance.
decline and deterioration​
Dried-up tank at Palani Andavar Temple, Vadapalani
Most of the ancient temple tanks have fallen into a state of repair and disuse.​
Unchecked extraction and blocking of inlet ducts (either by unplanned construction or litter) has led to the drying up of some of the temple tanks.
Pressures on the land have lead to the encroachment of these dried out tanks. For example, in Bangalore, the famous Dharmambudhi tank has been drained to make way for the Majestic bus stand.
Also, the tanks have become sinks for sewage and garbage of the neighbourhood.
Those tanks that still have water have been invaded by various kinds of weeds, rendering them unfit for use.
C.P.R. Environmental Education Centre took up a survey of 175 temple tanks in south India. The visual survey and recording of information was accompanied, in several places, by water analysis for both physical and chemical.
list of sacred tanks in india​
State
Local term for temple tanks
No. of tanks added
Andhra Pradesh
Pushkarini
17
Arunachal Pradesh
-
1
Bihar
-
1
Gujarat
-
2
Haryana
-
6
Jharkhand
-
1
Karnataka
Devara Kalyani
18
Kerala
Kulam / Cheras
24
Maharashtra
-
1
Orissa
-
8
Punjab
-
5
Tamilnadu & Pondicherry


Chennai

Pondicherry

Rest of Tamilnadu
Kovil Kulam
177


50

1

66
Uttaranchal
Kund
3
Uttar Pradesh
Kund
2